Offshore Fishing West Palm Beach
Offshore Fishing is About the Best Thing & It Starts at Slob City Charters!
Offshore Fishing West Palm Beach
Slob City Charters has many options

to choose from, great for many different occasions, take your pick!
Slob City has you covered
Offshore fishing means fishing in deeper waters, usually twenty to thirty miles from shore. It's defined by depth, meaning water more than ninety feet deep (that's about thirty meters). It takes time to reach deeper water.  If you are interested in an offshore charter, a full day charter is probably going to be best to maximize your fishing time. Offshore may not be the best vacation activity for a family with smaller children.
Want to Enjoy

A fishing adventure unlike any other?
Offshore fishing offers the possibility of bigger fish such as wahoo, marlin, amberjack, sailfish and kingfish. There is no guarantee that you will catch fish, although an experienced captain will know where the hot spots are, and what species are likely to be biting on the day you go out. Success is partly a matter of luck and partly a matter of skill and experience. Before you set up a charter, check out the captain's experience, and on-line ratings and comments.
When you plan your charter, consider what kind of fish you are after. The presence, number and activity of fish species varies considerably with the season. Be aware that water can be rough and that it may be much cooler offshore, so consult with the captain about appropriate clothing. Also be aware that   weather conditions here in Florida can be unpredictable. If the weather is stormy on the day you have scheduled for your trip, it may have to be rescheduled. Fishing is fun, but safety of the boat, crew and clients is more important.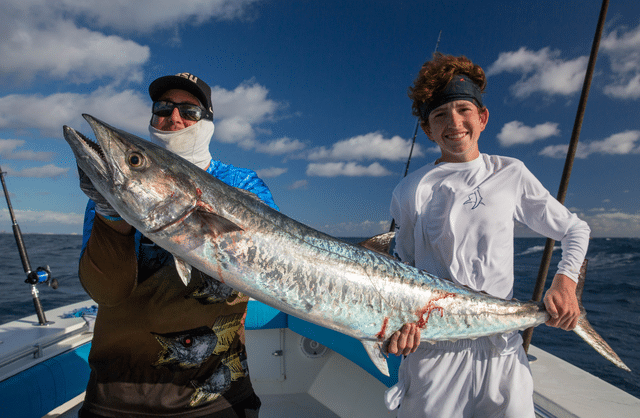 We Have Great Stories To Share!!!
Call Today for a

Offshore Fishing Trip in Palm Beach FL
Slob City is all you need
There are three main methods of fishing offshore. Trolling uses lines on outriggers following the boat as it moves slowly. In drift fishing, the boat barely moves and the object is fish, such as grouper, on the bottom. Kite fishing uses kites towed behind the boat to keep bait near the surface and is effective for billfish.
If you are interested in going offshore, give Slob City Charters a call. As Captain Carl says, "We believe in catching, not fishing."