Fishing Charter Fort Pierce, FL
Searching for

Fort Pierce Fishing Charters Near Me?
Slob City has you covered
If you're a resident of Florida, you already know how many amazing, fun-filled things we have to do here. Between top-rated amusement parks, miles of pristine coastline, and cities full of art and history, there's no shortage of fun to be had in the Sunshine State.
We also offer top-rated Offshore Fishing in Fort Pierce, FL!
Want to Enjoy

A fishing adventure unlike any other?
However, if you're looking for some fun that maybe you haven't tried yet, consider a fishing trip Fort Pierce. Fishing trips not only allow you to get close to nature, but it's a great bonding activity for friends and families, and even perfect for celebrations such as birthdays, retirements, and bachelor parties. If you're looking for a fishing charter in Fort Pierce, FL – turn to Slob City Charters.
At Slob City Charters, we do it all. From providing you with the necessary gear to helping you make the most of your experience, we are proud to offer you a Fort Pierce fishing charter experience that will become one of your favorite memories.
Our story begins with our captain – Captain Carl – whose love for deep-sea fishing started with spending time out to sea with his father. After relocating to Treasure Coast, FL in 2006, Captain Carl deepened his knowledge of deep sea fishing to make sure that he had the best tips and tricks on how to engage with the waters in South Florida, which were very different from the ones he grew up with.
What's blossomed since are top-rated Fort Pierce fishing charters that come highly recommended by clients all over Florida.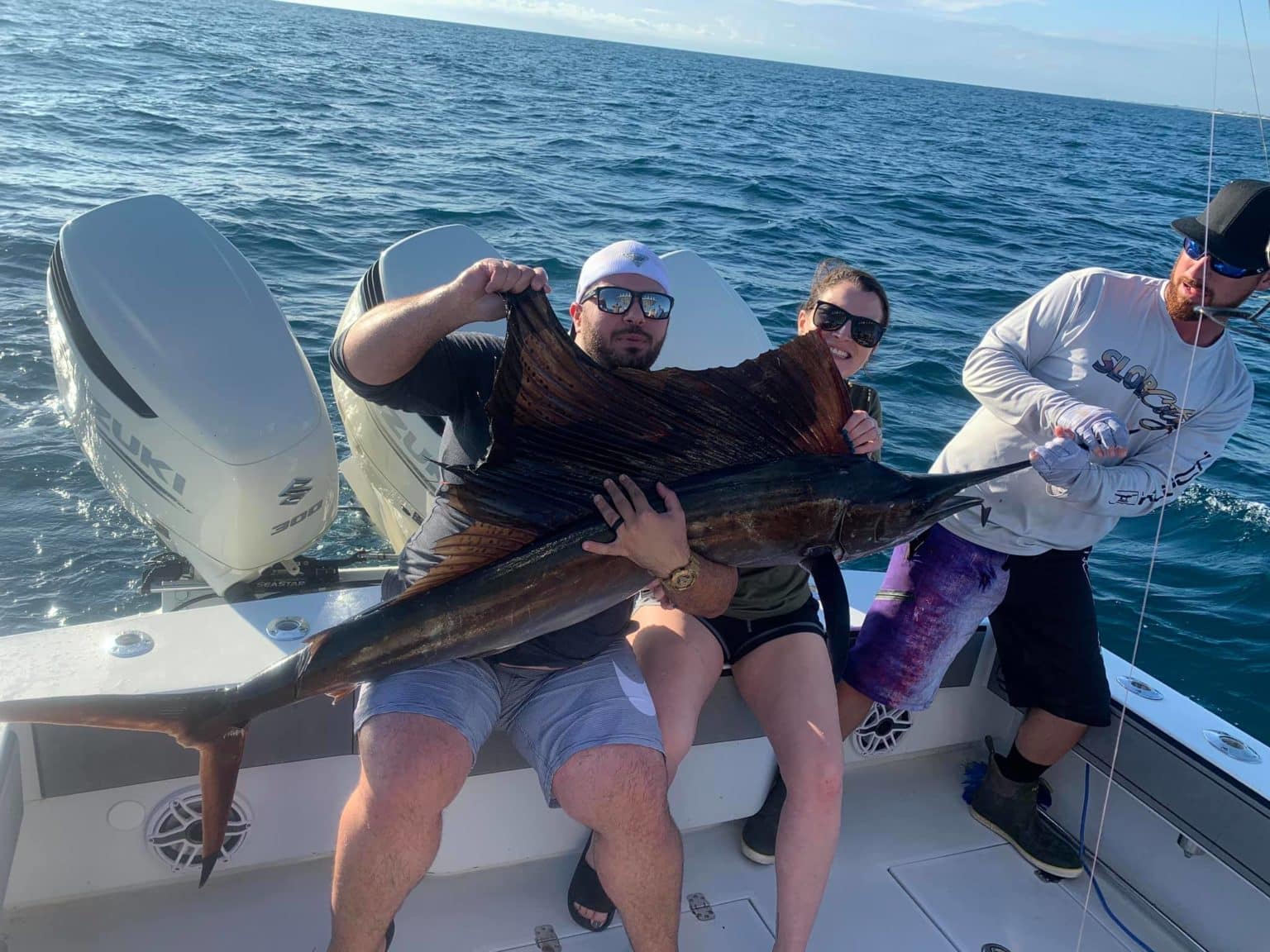 We Have Great Stories To Share!!!
Call Today for a

Fishing Trip in Fort Pierce, FL!
Slob City is all you need
When you book one of our fishing charters, you can expect to receive the knowledge of a fishing expert. We routinely update our website with the latest fishing reports, so you can know what to expect. Through our charters, groups have been able to catch tuna, kingfish, Mahi, cobia, and even Goliath Groupers. We welcome you to check out our gallery to see what our groups have caught while on one of our fun and exciting fishing charters.
If you want to encounter these majestic creatures yourself, you can book a fishing charter specifically designed to search for and catch Goliath Groupers. The team at Slob City Charters is here to make each fishing excursion unique, so if you want to customize your experience, just give us a call and we'll do everything we can to meet your offshore fishing needs. When you're ready to book your next exciting trip, call Slob City Charters at (772) 209-3794. All reservations can be made either via email or phone call and can be paid either through Paypal and Venmo or credit card.
As we said, there's no shortage of fun and exciting ways to make memories in Florida. Add a unique and custom fishing charter from Slob City Charters to your list for you and five of your closest friends or family! You never know what you might find out there.
To stay up with all the latest fishing charter adventures, be sure to follow Slob City Charters on Instagram. We can't wait to help you make the memory of a lifetime out on the open ocean!